Christmas isn't for another two weeks, but if you're planning to send out a couple of greeting cards for the holidays, it's definitely a good idea to take your batch of cards to the post office sooner rather than later. The Christmas holidays are all about spending time with your loved ones and nothing says "I love you" like a heartwarming card, especially if you have only got a batch of socks and gift cards to hand out this holiday season. Without further ado, here are 20 of our favorite thoughtful Christmas messages for family, friends, and colleagues: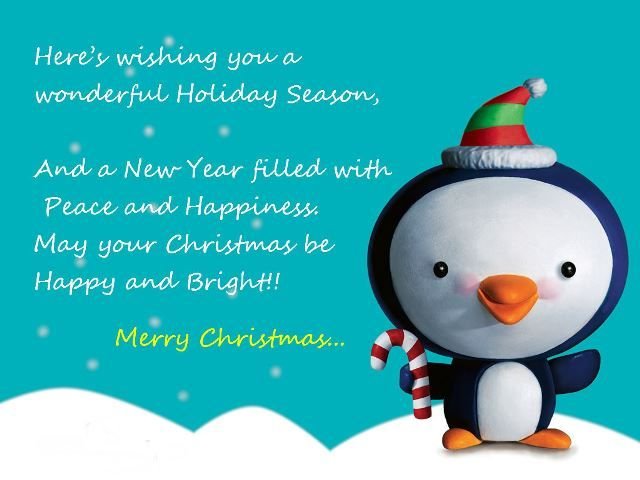 Happy Holiday Season Greetings, Merry Christmas Quotes Sayings
1. A wish for peace and happiness at Christmas and throughout the New Year.
2. The gift of love. The gift of peace. The gift of happiness. May all these be yours at Christmas.
3. May the good times and treasures of the present become the golden memories of tomorrow. Wishing you lots of love, joy and happiness. Merry Christmas!
4. May the Christmas season fill your home with joy, your heart with love and your life with laughter.
5. May this Christmas end the present year on a cheerful note and make way for a fresh and bright New Year. Here's wishing you a Merry Christmas and a Happy New Year!



6. Christmas Greetings! With many good wishes for Christmas and the coming year.
7. May your Christmas sparkle with moments of love, laughter and goodwill, And may the year ahead be full of contentment and joy. Have a Merry Christmas.
8. As you relish the goodies, decorate every nook and corner of your home and enjoy the get-together… May the joy and festivities continue to radiate in your lives, long after Christmas is gone. Merry Christmas!Happy New Year!
9. Warmest thoughts and best wishes for a wonderful Holiday and a Happy New Year.
10. Wishing you a joyous Holiday Season and a most prosperous and healthy New Year.
11. To a joyful present and a well remembered past. Best wishes for Happy Holidays and a magnificent New Year.
12. Have a magical holiday season.
13. Best wishes for the holidays and for health and happiness throughout the coming year.
14. We wish you and your family, Seasons Greetings and a joyous New Year
15. May the closeness of friends and the comfort of home renew your spirits this holiday season
16. Let the spirit of love gently fill our hearts and homes. In this loveliest of seasons may you find many reasons for happiness.
17. Whatever is beautiful. Whatever is meaningful. Whatever brings you happiness. May it be yours this holiday season and throughout the coming year.
18. May your heart be lifted in praise this Christmas for the wonderful gift of Jesus and the joy He brings to our lives. Have a wonderful Christmas and a Blessed New Year.
19. May God fill your life with love, joy and peace this Holiday Season and throughout the New Year.
20. A silent night, a star above, a blessed gift of hope and love. A blessed Christmas to you!