Find the perfect wishes messages! Choose among hundreds of genuine heartfelt Happy New Year wishes messages for your family, friends and loved ones.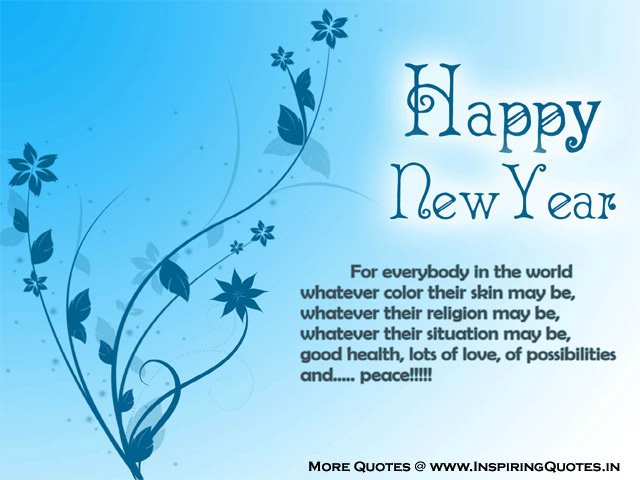 Happy New Year wishes messages 2015
Beauty..
Freshness..
Dreams..
Truth..
Imagination..
Feeling..
Faith..
Trust..
This is beginning of a new year!
"Happy new year"
Memorable moment r celebrated together,
U r my best friend for now & forever,
Make me Miss U even more this New Year,
Hope this year bring Happiness for you Dear.
What the future holds for us
depends on what we hold for the
future.May all your days be
beautiful and bright.. Keep your
face to the sunshine Let a series
of happy thoughts run through
your mind. They will show on your face.
HAPPY NEW YEAR
HAPPY NEW YEAR
H ours of happy times with friends and family
A abundant time for relaxation
P prosperity
P plenty of love when you need it the most
Y youthful excitement at life simple pleasures
N nights of restful slumber (you know – don't' worry be happy)
E everything you need
W wishing you love and light
Y ears and years of good health
E enjoyment and mirth
A angels to watch over you
R remembrances of a happy years!
When you're lonely … I wish you LOVE !
When you're down … I wish you JOY !
When you're troubled … I wish you PEACE!
When things seem empty … I wish you HOPE !
Happy New Year………
Recipe For A Happy New Year
Take 12 fine, full-grown months.
See that these are thoroughly cleansed from all old memories of bitterness, rancor, hate, and jealousy.
Cut these months into 30 or 31 equal parts.
This batch will keep for one year. Do not attempt to make more than one batch at a time …. many people spoil the entire lot in this way.
>>>>A Happy New Year is a certainty!>>>>
A mother had a slender, small
body, but a large heart – a heart so
large that everybody's grief and
everybody's joy found welcome in
it, and hospitable accommodation.
HAPPY NEW YEAR
Ring out the old, ring in the new,
Ring, happy bells, across the snow:
The year is going, let him go;
Ring out the false, ring in the true.
HAPPY NEW YEAR
We spend January 1 walking
through our lives, room-by-room,
drawing up a list of work to be
done, cracks to be patched.
Maybe this year, to balance the
list, we ought to walk through the
rooms of our lives… not looking for
flaws, but for potential.
Happy New Year.
Every man should be born again
on the first day of January. Start
with a fresh page. Take up one
hole more in the buckle if
necessary, or let down one,
according to circumstances; but
on the first of January let every
man gird himself once more, with
his face to the front, and take no
interest in the things that were and are past.
HAPPY NEW YEAR
Love me but, leave me not,
Kiss me but, miss me not,
Hit me but, hate me not,
Remember me but, forget me not.
HAPPY NEW YEAR
New Year 2015 Greetings Messages
I like to spend my New Years' eves,
In solitude, in humble prayer,
In thanks for each year, as it leaves,
For one more year of God's sweet care…
(Happy New Year)
only a night from old to new!
The old year had its work to do but now its time for the new year miracles to come true !!!!!!!!
HAVE A MARVELOUS NEW YEAR
Do all the best u can,
By all the ways u can,
In all the manners u can,
In all the occasions u can,
At all the opportunity u can
A VERY HAPPY NEW YEAR
Every moment in a life has its value. Morning brings beginning, Afternoon brings way,
Evening bring z Luck, Night brings success, Hope you will enjoy all of them, for everyday
HAPPY NEW YEAR FROM ME ONLY
O my Dear, forget your fear,
Let all your dreams b clear,
Never put tear, pl z hear,
I want 2 tell one thing in your ear
Wishing U A Very Happy NEW YEAR
Looking back on the months gone by
As a new year starts and an old one ends
We contemplate what brought us joy
And we think of our loved ones & our friends.
HAPPY NEW YEAR TO ALL
There have been many time in going year
when I may disturbed you
troubled u
irritated u
bugged u
.
.
.
.
today I just wanna tell you
.
.
.
.
I plan to continue it in upcoming year.
Let the new year the a year of freedom from sin,
a year of service, a year of trust in God,
and it will b a happy year from first to last.
It may be the hardest year we have known,
but it will b the happiest.
Wish you Happy New Year
HAPPY NEW YEAR
Fresh Air….
Fresh Idea….
Fresh Talent….
Fresh Energy….
I wish U to have a …..
Sweetest Sunday,
Marvelous Monday,
Tasty Tuesday,
Wonderful Wednesday,
Thankful Thursday,
Friendly Friday,
Success full
never tell the words which i told …..
never tell the words which u told ……….
but tell to everyone
that
we are come back with saying "HAPPY NEW YEAR"
Dear Friend If you have Hurt Any
One Ask For forgiveness & If you have
Been Hurt By Any One Then Even
You Forgive.Don't Carry Your
Pains to NEXT YEAR.
HAPPY NEW YEAR
New is the year, new are the
hopes and the aspirations, new is
the resolution, new are the spirits
and forever my warm wishes are
for you.
Have a promising and fulfilling new year.
---
Happy New Year wishes Pictures
Tags: