Find here beautiful Happy Maha Shivratri Wishes Friends and Family members, Shivratri SMS, Quotes, Messages, Status, Thoughts, Sayings in Hindi and English Language.
Happy Maha Shivratri Wishes
Om Mein Hi Aastha, Om Mein Hi Vishwas;
Om Mein Hi Shakti, Om Mein Hi Sansar;
Om Se Hi Hoti Hai Achhe Din Ki Shuruaat.
Bolo – Om Namha Shivay!
Happy Shivratri!
Jai Bholenath!
---
What is 'Bhaang' (Cannabis) called in English?
.
..
…
"Shiva's Regal"!
Har Har Mahadev!
Happy Maha Shivratri!
---
Shiva is also referred to as Triambaka because of his third eye – the eye of vision. On Mahashivaratri, nature brings this possibility very close to us. While this is possible every day, on Shivratri nature makes it more available to us because the planetary positions are such that the energy, especially in the northern hemisphere, makes it very easy for a person to raise his/her energies upward.
May you be blessed enough to become a Triambaka on this auspicious day!
Happy Mahashivaratri!
---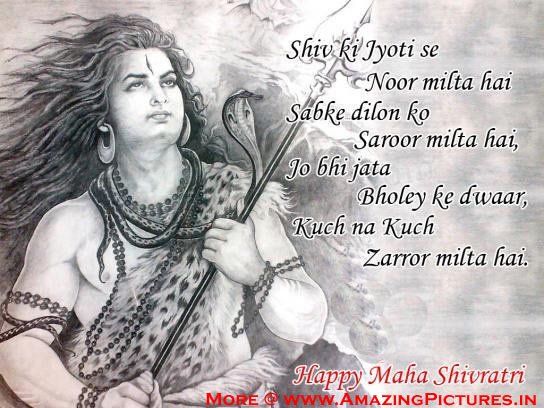 On the auspicious occasion of Maha Shivratri – the night of Shiva worship, let's savour 'Thandai' (made from cannabis, almonds, and milk) and sing songs in praise of the Lord Shiva and dance to the rhythm of the drums.
Happy Mahashivaratri!
---
May Lord Shiva who is also known as Mahadev, Mahesh, Maheshwar, Shankar, Shambhu, Rudra, Har, Trilochan, Devendra and Trilokinath bless you at all times!
Happy Mahashivaratri!
---
Mahashivaratri marks the night when Lord Shiva performed the 'Tandava' and it is also believed that Lord Shiva was married to Parvati.
Let's celebrate this auspicious day with special prayers to Lord Shiva and offer water, milk, yogurt, honey and bel leaves to have a successful life.
Happy Mahashivaratri!
---
Aayi Hai Shiv Ji Ki Ratri,
Karenge Shiv Ji Ka Jaap,
Karnge Kamna Samridhi Ki,
Mit Jaynge Saare Paap.
Happy Mahashivratri!
You may also Like: Maha Shivratri Quotes, Thoughts, Messages, Sayings, Greetings, Status
---
"Om Namah Shivaya"
Let's spend the night of Shivaratri by chanting the name of Lord Shiva and seek His divine blessings!
Happy Maha Shivratri!
---
Pi Ke Bhaang Jamaa Lo Rang;
Jindgi Bite Khushiyon Ke Sang;
Lekar Naam Shiv Bhole Ka;
Dil Men Bhar Lo Shivraatri Ki Umaang;
Shubh Maha Shivratri!
Lord Shiva Blessings Quotes for your family
---
Shiv Ki Mahima Aparampar;
Shiv Karte Sabka Udhar;
Unki Kripa Aap Par Sada Bani Rahe;
Aur Bhole Shankar Aapke Jivan Me Khushi Hi Khushi Bhar De.
Happy Maha Shivratri!



Tags: