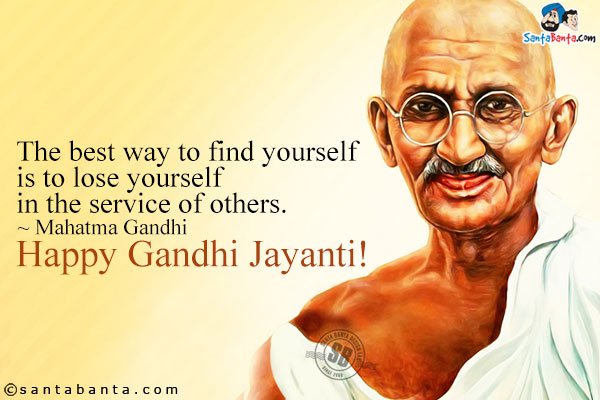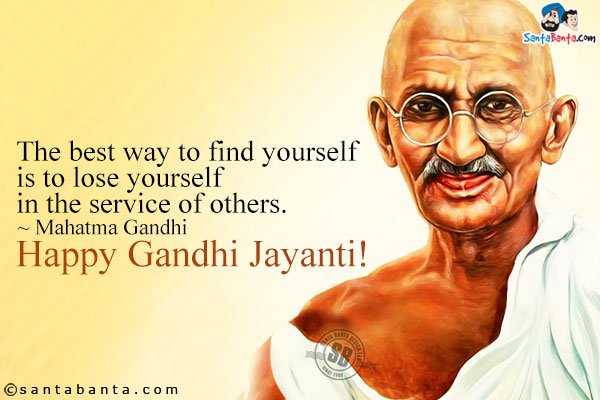 Happy Gandhi Jayanti SMS Quotes
It's day of celebrations,
Its day to value a special person,
Person who is the cause of our nation,
Who taught world the lesson of non-violence,
Its Mahatama Gandhi..
The Father of Nation……
Jo Bhagwan ko nahi manta usey main Insaan nahi manta,
Jo Gandhiji ko nahi manta use me Indian nahi manta
Wishing all Indians happy Gandhi Jayanti…!!
The father of the nation with the tools of truth and nonviolence,
Freed our nation from imperialism,
Follow path of truth and wisdom,
Pay homage to this great leader
on Gandhi Jayanti & always…..
Desh k liye jisne vilas ko thukraya tha,
Tyag videshi dhage usne khud hi khaadi banaya tha,
Pehen k kaath ki chappal jisne Satyagrahe ka raag sunaya tha..
Woh Mahatma Gandhi Kehlaya tha..
HAPPY GANDHI JAYANTI!!
Follow the path of truth Spread Bapu's
great Ideas to inspire everyone
Happy Gandhi Jayanti !!!!
A salute to the man
who led us to
the Freedom
Wishes on Gandhi Jayanti !!
Its Oct 2, B'day Of Mahatma Gandhi.
One of the Greatest Human ever born in India.
Let's Salute the Great Soul.
Jai Hind!!!
On Gandhi Jayanti,let's pay our tributes to the messiah of non-violence & take leadership in creating better polity in India, to build a best India! Happy Gandhi Jayanti.
Mahatma Gandhi has come to be known as the Father of India and a beacon of light in the last decades of British colonial rule, promoting non-violence, justice and harmony between people of all faiths.Wishes on Gandhi Jayanti to all of my friends.
Once upon a time, a common man faced a common incidence but he then turned into uncommon man, became a nation's pride. He taught world the lesson of non-violence, he taught us to live simple. Man who was so simple yet so complicated that he was driving a whole nation. Nation call him Father. That is Mohandas Karam Chand Gandhi.
Our Father of Nation: Mahatma Gandhi.Lets celebrate this valued moment.
Happy Gandhi Jayanti to all.