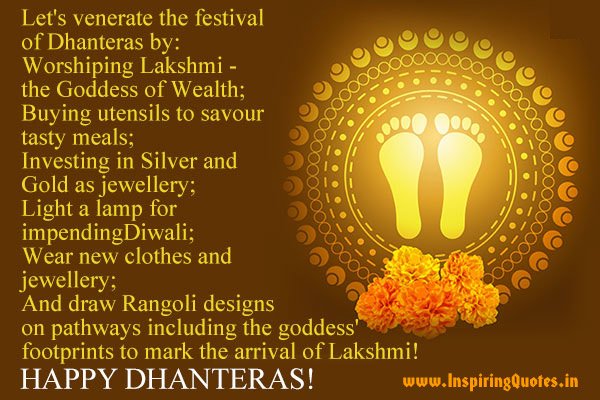 Let's venerate the festival of Dhanteras by:
Worshiping Lakshmi – the Goddess of Wealth;
Buying utensils to savour tasty meals;
Investing in Silver and Gold as jewellery;
Light a lamp for impending Diwali;
Wear new clothes and jewellery;
And draw Rangoli designs on pathways including the goddess' footprints to mark the arrival of Lakshmi!
Happy Dhanteras!
On this auspicious festival, may your life:
Shimmer with Silver;
Shine with Gold;
And dazzle like Platinum!
Happy Dhanteras!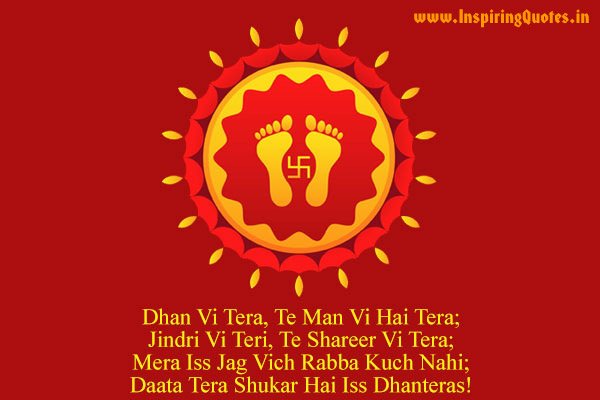 Dhan Vi Tera, Te Man Vi Hai Tera;
Jindri Vi Teri, Te Shreer Vi Tera;
Mera Iss Jag Vich Rabba Kuch Nahi;
Daata Tera Shukar Hai Iss Dhanteras!
Dil Tera Vaas Mera;
Didar Tera Pyaar Mera;
Jazba Tera Yaar Tu Mera;
Teri Aankhein Niwaas Mera.
Happy Dhanteras!