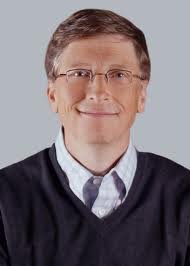 Success is a lousy teacher. It seduces smart people into thinking they can't lose.
सफलता एक घटिया शिक्षक हैं जो स्मार्ट जो लोगो को मजबूर करती हैं  सोचने पर की वो  कभी हर नहीं सकते
Bill Gates
Be nice to nerds. Chances are you'll end up working for one.
बेवकूफ बनकर खुश रहिये और इसकी पूरी उम्मीद हैं की आप अंत में सफलता प्राप्त करेंगे !
Bill GateIt's fine to celebrate success but it is more important to heed the lessons of failure.
यह सही हैं की सफलता  का जश्न आप बनाये पर अपने पुराने बुरे समय को याद रखते हुए !
Bill Gates
As we look ahead into the next century, leaders will be those who empower others.
आगे समय में वही लीडर  जो दूसरों को मजबूत बनाएगा असली कामयाबी पायेगा !
Bill Gates
Intellectual property has the shelf life of a banana.
बोधिक  सम्पदा किसी केले की बाहरी खोल की तरह होती हैं !
Bill Gates
Your most unhappy customers are your greatest source of learning. ( Bill Gates )
 आपके नाखुश ग्राहक ही सबसे बड़े शिक्षक हैं !
 Bill Gates

Whether it's Google or Apple or free software, we've got some fantastic competitors and it keeps us on our toes.
हमें अपने पैर पर खड़े रहने के लिए गूगल  बिंग जैसे ब्रांड से प्रेरणा लेते हैं
Bill Gates