A Great Collection of Prayer Quotes, Thoughts and Sayings Images. Prayer is request for help to God. Prayer Image Quotes are motivational sayings about religious concerns of the individuals and their confidence in the supernatural powers.
Prayer Quotes, Thoughts and Sayings Images
Don't think of the things you didn't get after praying. Think of the countless blessings God gave you without asking.
---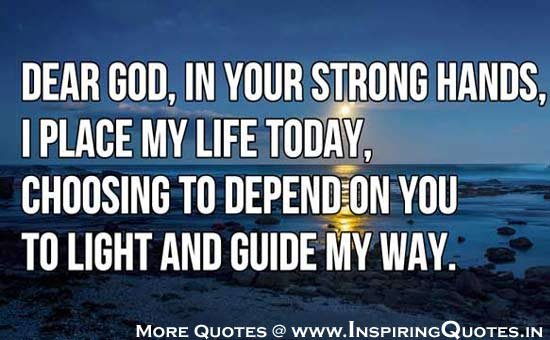 Dear God, In your strong hands, I place my life today, Choosing to depend on you to light and guide my way.
---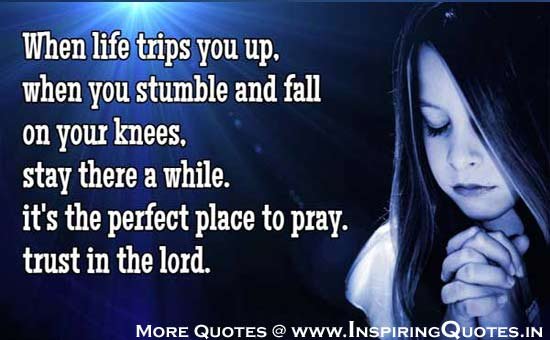 When life trips you up, when you stumble and fall on your knees, stay there a while. It's the prefect place to pray. Trust in the lord.
---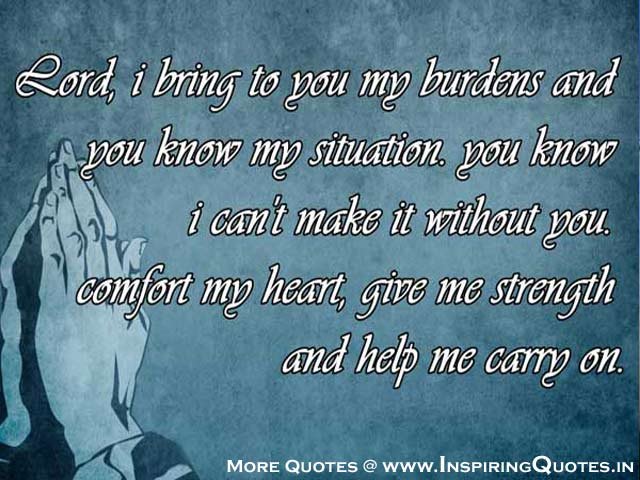 Lord, i bring to you my burdens and you know my situation. You know i can't make it without you. Comfort my heart, give me strength and help me curry on.
---
Great Praying Quotes
When we talk to God, we're praying. When God talks to us, we're schizophrenic. ~Jane Wagner


We have to pray with our eyes on God, not on the difficulties. ~Oswald Chambers

When at night you cannot sleep, talk to the Shepherd and stop counting sheep. ~Author Unknown

When a man is at his wits' end it is not a cowardly thing to pray, it is the only way he can get in touch with Reality. ~Oswald Chambers

I pray on the principle that wine knocks the cork out of a bottle. There is an inward fermentation, and there must be a vent. ~Henry Ward Beecher

God punishes us mildly by ignoring our prayers and severely by answering them. ~Richard J. Needham

When we pray to God we must be seeking nothing — nothing. ~Saint Francis of Assisi

"Give us this day our daily bread" is probably the most perfectly constructed and useful sentence ever set down in the English language. ~P.J. Wingate

Prayer does not change God, but it changes him who prays. ~Søren Kierkegaard

No one is a firmer believer in the power of prayer than the devil; not that he practices it, but he suffers from it. ~Guy H. King

Trouble and perplexity drive me to prayer and prayer drives away perplexity and trouble. ~Philip Melanchthen

Don't pray when it rains if you don't pray when the sun shines. ~Satchel Paige, 1974

The value of consistent prayer is not that He will hear us, but that we will hear Him. ~William McGill

Prayer may not change things for you, but it for sure changes you for things. ~Samuel M. Shoemaker

Two hands working can do more than a thousand clasped in prayer. ~Author Unknown

Give a man a fish, and you'll feed him for a day; give him a religion, and he'll starve to death while praying for a fish. ~Author Unknown

I prayed for twenty years but received no answer until I prayed with my legs. ~Frederick Douglass, escaped slave

Practical prayer is harder on the soles of your shoes than on the knees of your trousers. ~Austin O'Malley

As long as there are tests, there will be prayer in schools. ~Author Unknown

Many people pray as if God were a big aspirin pill; they come only when they hurt. ~B. Graham Dienert

Some have been to the mountain. I have been to my knees by the side of my bed. ~Robert Brault

Prayer is when you talk to God; meditation is when you listen to God. ~Author Unknown

Prayer is not merely an occasional impulse to which we respond when we are in trouble: prayer is a life attitude. ~Walter A. Mueller

The Lord's Prayer may be committed to memory quickly, but it is slowly learnt by heart. ~Frederick Denison Maurice

I used to think the Lord's Prayer was a short prayer; but as I live longer, and see more of life, I begin to believe there is no such thing as getting through it. If a man, in praying that prayer, were to be stopped by every word until he had thoroughly prayed it, it would take him a lifetime. ~Henry Ward Beecher

Deep down in me I knowed it was a lie, and He knowed it. You can't pray a lie — I found that out. ~Mark Twain

It is good for us to keep some account of our prayers, that we may not unsay them in our practice. ~Matthew Henry

Prayer gives a man the opportunity of getting to know a gentleman he hardly ever meets. I do not mean his maker, but himself. ~William Inge

Grow flowers of gratitude in the soil of prayer. ~Terri Guillemets

If we could all hear one another's prayers, God might be relieved of some of his burdens. ~Ashleigh Brilliant



Tags: