Good Friday 2020: Top 10 Quotes and Five Texts to Share with Family and Friends about Jesus Christ's
Christians around the world will observe Good Friday on 10 April.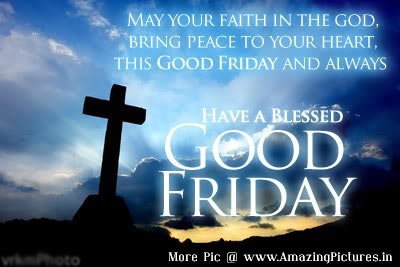 Good Friday, is observed on the Friday before Easter Sunday, and is a commemoration of the crucifixion of Jesus Christ, and the suffering that led up to that historic moment.
Christians consider Good Friday to be one of the most solemn holy days of the year, and many more-devout Christians spend the day reflecting on the passion of Christ, and the idea that he gave his life for mankind.



Quotes to Share for the Day:
"Our Lord has written the promise of the resurrection, not in books alone but in every leaf in springtime." – Martin Luther
"Stoning prophets and erecting churches to their memory afterwards has been the way of the world through the ages. Today we worship Christ, but the Christ in the flesh we crucified." – Mahatma Gandhi
"No pain, no palm; no thorns, no throne; no gall, no glory; no cross, no crown." – William Penn
"He drained the cup of God's wrath bone dry, leaving not a drop for us to drink." – Richard Allen Bodey
"So shall we join the disciples of our Lord, keeping faith in Him in spite of the crucifixion, and making ready, by our loyalty to Him in the days of His darkness, for the time when we shall enter into His triumph in the days of His light." – Phillips Brooks
"By the cross we, too, are crucified with Christ; but alive in Christ. We are no more rebels, but servants; no more servants, but sons!" – Frederic William Farrar
"2,000 years ago one man got nailed to a tree for saying how great it would be if everyone was nice to each other for a change." – Douglas Adams
"Despite our efforts to keep him out, God intrudes. The life of Jesus is bracketed by two impossibilities: "a virgin's womb and an empty tomb". Jesus entered our world through a door marked, "No Entrance" and left through a door marked "No Exit." – Peter Larson
"The cross was two pieces of dead wood; and a helpless, unresisting Man was nailed to it; yet it was mightier than the world, and triumphed, and will ever triumph over it." – Augustus William Hare
"Death is the justification of all the ways of the Christian, the last end of all his sacrifices, the touch of the Great Master which completes the picture." – Madame Swetchine
SMS or Messages to Share with Your Family and Friends
Good Friday marks the slaying of our Jesus
The unblemished lamb, the perfect sacrifice.
He took our guilt and blame upon Himself
So we could be with Him in paradise.
He showed us the way
He has long been gone
And yet in our hearts
His name shines on.
Wish u a Holy Friday
May The Glory Of Our Saviour
Strengthen You And May
His Graces Shine Upon You
On Good Friday And Always!
Happy Good Friday
When You face problems in life,
don't ask God to take them away.
Ask Him to show His purpose,
Ask ways how to live a day searching his purpose for You.
Happy Good Friday
May on this Good Friday we start it with
Fasting and Prayers so that we can bring
God's mercy and forgiveness on all mankind
Lets Pray together.